Mazda MX6
27/8/2011
Mazda MX6

The Mazda MX-6 was a front-wheel drive sporty coupe produced by Mazda between 1988 and 1997. It was larger than the MX-3 and MX-5 (Miata), and less sporty than the RX-7.The MX-6 was mechanically identical to the Ford Probe. Both cars shared the Mazda GD platform (1988-1992) and GE platform (1993-1997). Along with the Ford Probe, the Mazda MX-6 was designed and built in America in a joint venture with Ford. This joint venture was called Auto Alliance.
Mazda MX6
Mazda MX6

1988-1992 MX-6The first generation MX-6/Probe appeared in 1988 and lasted until 1992 in the United States. In some markets the model years were from 1987 to 1991. It was based on a series of futuristic concept cars of the early 1980s. It was a large coupe, based on the Mazda GD platform, and was powered by a 2.2 L SOHC straight-4 cylinder Mazda F2 engine. The base engine produced just 110 hp (82 kW), but a 145 hp (108 kW) turbocharged version was available.This generation was available in several trim levels, which differ depending on the market the vehicle was sold in. In the United States, the MX-6 was available in DX, LX, LE, and GT trim levels:* DX was the "bare bones" model, offering the base 110 hp/130 ft.lbf F2 2.2 L engine and few options, but most MX-6s sold in the U.S. were equipped with air conditioning.* LX added power windows, power locks, and power mirrors, as well as an optional electric sunroof.* LE was a rare "Leather Edition" model that the same as the LX and included leather seating surfaces and a leather wrapped shift knob on manual transmission-equipped vehicles.* GT included all options from the LX, but also stepped up to the F2T 2.2L turbocharged, intercooled engine, which put out 145 hp and 190 ft.lbf of torque delivering a significant performance boost. It also had 4 wheel disc brakes with ABS and 3 way adjustable suspension. In 1989, Mazda offered a special four wheel steering (commonly abbrieviated 4WS) option on MX-6 GTs destined for the U.S. This system consisted of an electronically controlled rear steering rack that turned the rear wheels opposite to the fronts at low speeds to improve cornering, and turned the rear wheels with the fronts at high speeds to improve highway lane change manuvering.European and Asian spec vehicles commonly received either the 1.8 L SOHC or 2.0 L SOHC FE engine in GLX models, or the 2.0 L DOHC FE engine (sometimes called FE3) in their GT models. 4WS was a common option for European MX-6s. Austrailian vehicles were almost always equipped with same the 2.2 L turbocharged F2 motor as the U.S., as well as 4WS.
Mazda MX6
Mazda MX6
Mazda MX6
Mazda MX6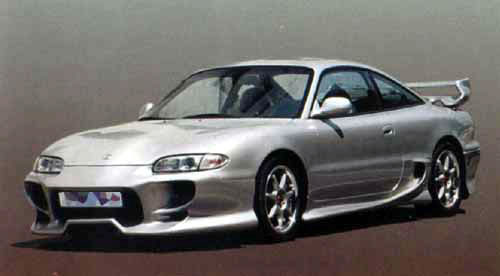 Mazda MX6

1993-1997 MX-6The second-generation car came out in the United States in late 1992 as a 1993 model. It used Mazda's GE platform and came with Mazda-designed engines and was available in two trims:* The base car came with a 2.0 L FS inline 4 producing 118 hp (88 kW)* The LS version came with a 2.5 L KL V6 producing 164 to 170 hp (122 to 127 kW), depending on the year. In Japan, the 2.5 L V6 was the higher performance KLZE, while the 2.0 L was a I4 called the FS. In Europe and America, the 2.5 L V6 was a lower performance KL03. In Australia and Japan, four wheel steering was an option.
Mazda MX6
Mazda MX6
Mazda MX6
Mazda MX6
Category :
reserved to connected users
|
Write a comment
|
Print
Comments
Ellieok, le 19-07-2016 à 04:17:01 :
essay
Cars and every single one athletic competition of the real times for the student and for the nation are absorbed and implemented it is the instilled and go forward. Vist our website http://www.hirepaperwriter.com/pay-and-have-essays-written
Sergeyev, le 01-06-2016 à 03:26:54 :
games
Cars and all games of the real times for the students and for the citizens are engrossed and implemented it is the instilled and advanced http://topassignmentshelp.org/cheap-assignment-writing-help site. The performance of the individuals are rightly organized and assessed.